UNESCO Associated School
We are a certified UNESCO Associated School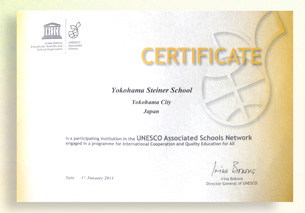 On January 11, 2014, Yokohama Steiner School officially became affiliated to the UNESCO Associated Schools Project Network, receiving a certificate from the UNESCO (United Nations Educational, Scientific and Cultural Organization) Secretariat in Paris. We are the second Japanese school run by a non-profit organization that became affiliated to UNESCO Associated Schools Project Network. We are encouraged by the fact that our educational practices are recognized by UNESCO, sometimes called "the conscience of the UN", and by the Asia-Pacific Cultural Center for UNESCO, ASPUnivNet and the Japan National Commission for UNESCO of Ministry of Education, Culture, Sports, Science and Technology in the form of their support during the review process.
What is a UNESCO Associated School?
What is a UNESCO Associated School?
A UNESCO School is a school practicing the principles of UNESCO, such as "peace" and "international cooperation". More than 8,500 schools have been certified in approximately 180 nations and regions. In Japan, 279 schools have been certified (as of April 2014), including 3 Waldorf Steiner schools.
While each school strives for unique practices in aiming for developing new educational contents and methods for children to work on various global issues, UNESCO Associated Schools collaborate with each other beyond regions and school types.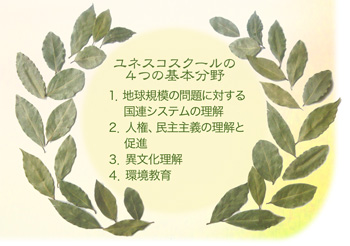 Four Principle Areas of UNESCO Associated Schools
1.World concerns and the role of the United Nations system
2.Understanding and promotion of human rights and democracy
3.Intercultural learning
4.Education for Sustainable Development
What is ESD?
Education for Sustainable Development

→Education that nurtures human resources for sustainable development; it aims to build a capacity in each student to identify his/her connection to social issues and explore solutions from a multi-faceted and comprehensive perspective
→Education that develops students who act for not only themselves but coming generations
→Years 2005-14 were "United Nations Decade of Education for Sustainable Development," which was originally proposed by Japan. UNESCO Associated Schools have been expected to take on the tasks as the major actors under UNESCO's lead. Also, Ministry of Education, Culture, Sports, Science and Technology as well as Japan National Commission for UNESCO define UNESCO Associated Schools as the base for promoting ESD and work toward increasing the number of affiliated schools.
Education of UNESCO School
Educational themes of UNESCO Associated Schoolss and programs at Yokohama Steiner School
▼Intercultural understanding

Teaching two foreign languages from Grade 1[1st Grade] (English and Chinese)
Actively engaged in foreign visitors

▼Environmental Education

School yard gardening and composting
Learning rice cultivation from local farmers
Taking care of "My Trees"
Banning the use of organic solvents in paint used for the school building

▼ Education on Sustainable Development

Interdisciplinary approach through "plant studies," "geography," and "local history"

Skits based on traditional stories taught in Japanese
Musical pieces and Olympic Games based on Greek mythology
Skits based on traditional stories taught in Chinese

Holistic learning for sustainable lifestyle

Main lessons ? 100-minute class consisting of a cycle of concentration and release
Class contents emphasizing five senses
Exploring and cultivating respect for Japanese traditional culture as well as cultures of other countries
Activity Report
【Support for disaster-striken areas】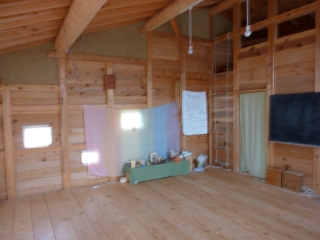 Our UNESCO School Group invited support from Yokohama Steiner School community in response to the 2011 Great East Japan Earthquake and the Fukushima Daiichi Nuclear Accidents. We first decided to send goods to tsunami-striken Kesennuma City in Miyagi Prefecture, where there are many UNESCO Associated Schools. Planters and other goods requested by the Education Board of Kesennuma City were purchased using the donation and delivered to the city in May 2011. Also, we visited and delivered donation to a Waldorf Steiner nursery, Kodomono Ie Soramame, in Fukushima City in March 2012.
【Installation of UNESCO Associated School Plate】
Yokohama Steiner School celebrated the UNESCO School plate installation on June 12, 2011 in preparation for our Open Day. We were grateful for receiving greetings from Japan National Commission for UNESCO, Asia-Pacific Cultural Center for UNESCO and supporters from the academics. Many members from local communities also participated in the ceremony, making the day even more special by sharing and commemorating the role of our school in society.
【National Conference】
The annual National Conference of UNESCO Schools was held at Tokyo University of Marine Science and Technology in 2011, and 2 faculty members and 1 parent from Yokohama Steiner School participated in the conference. It gave us an opportunity to exchange insights with other UNESCO Schools, further develop communications and share our programs and curriculums with parties inside and outside of UNESCO Schools.
【Workshops】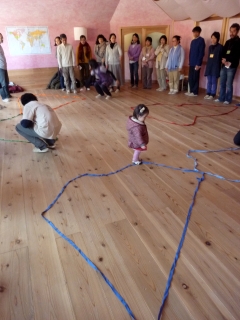 A study session was organized in aiming for exploring Waldorf Steiner education from the perspective of UNESCO School in February 2012.
When comparing Waldorf Steiner programs to the major educational pillar of UNESCO Schools ? education for nurturing human resources that support sustainable development (Education for Sustainable Development) , we learned that Steiner curriculum carries by nature ESD elements such as emphasis on first-hand experiences and interdisciplinary studies, thus the latest educational contents sought by our era.
We also hosted a workshop "If the Earth were a village of 100 people". It offered participants an opportunity to understand the reality of the world and discuss what we could do for contributing to sustainable society.
【UNESCO School ESD Best Practice Certification】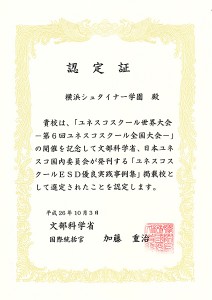 The class activities of the 1st graduates (led by Mami Nagai) were recognized as one of the "UNESCO School ESD Best Practices" by the Ministry of Education, Culture, Sports, Science and Technology. The certification was given to their program that linked chemistry and on-site agricultural studies during 7-9th grades and developed the learning into environmental perspectives.